Aid sector 'almost complicit' in sex scandal, say MPs
The aid sector is guilty of "complacency verging on complicity" over an "endemic" sex abuse scandal, a damning report from MPs has said.
International Development Committee chairman Stephen Twigg said charities were "more concerned to protect their own reputation" rather than victims.
In February the Times revealed senior staff at Oxfam had paid survivors of the 2010 earthquake in Haiti for sex.
Charities welcomed the report, and Oxfam said it has "further to go".
The MPs' report said "so much more" could have been done to tackle the "open secret" of people working in the aid sector committing such acts.
But despite the charities knowing about the problem, the committee said there had been a "collective failure of leadership", and action only when there was a crisis.
The committee said this "episodic" response had been "reactive, patchy and sluggish", and meant safeguarding policies were created but never effectively implemented.
The report also said leaders were "self-deluded" in thinking they had addressed problems before they became public.
The Charity Commission has called for the sector to show a "real commitment to lasting and demonstrable change".
MPs called for more resources to be given to tackling the issue – and said victims had to be at the "heart of solutions", or the response could be "harmful".
The committee said charities needed to focus on four areas:
Empowerment – ensuring the beneficiaries of humanitarian aid have knowledge and confidence in their rights
Reporting – reports of sexual exploitation and abuse should be proactively sought and responded to robustly with feedback to victims and survivors
Accountability – a zero tolerance culture on sexual exploitation and abuse is the least that victims should expect
Screening – it is imperative that known perpetrators of sexual exploitation and abuse, identified through improved reporting and accountability, are prevented from moving into new positions
The MPs also recommended the appointment of an independent aid ombudsman to provide assistance to victims and survivors if these other areas fail.
"The sector's movement on preventing sexual exploitation and abuse in the past few months is welcome but it is also long overdue," they said.
"We are yet to be reassured that the momentum will be maintained."
'Horror must be confronted'
The committee chairman Stephen Twigg described the report as "damning", but said it was just a "small, first step".
"Take note," he added. "We are putting all the relevant authorities on notice.
"No matter how insurmountable this looks, solutions must be found. This horror must be confronted."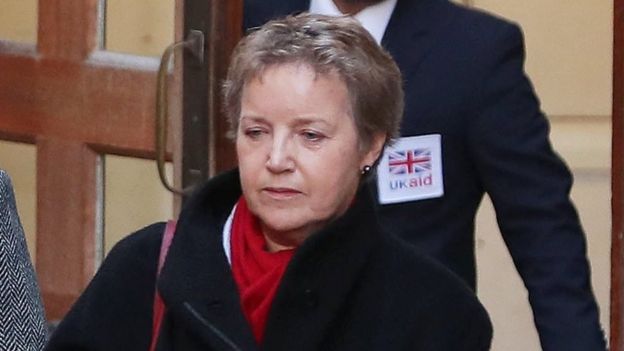 Caroline Thomson, the chair of trustees at Oxfam, said that while the report was "incredibly painful reading", it was welcome.
She said she was "truly sorry" for the organisation's failure to protect vulnerable women in Haiti, adding: "We have made improvements since 2011 but recognise we have further to go."
Ms Thomson praised the committee for challenging all in the sector to do better, and agreed that victims and survivors "must be at the heart of our approach".
Allegations emerge
A number of other incidents at charities emerged after the Oxfam revelations, including allegations against Brendan Cox, the husband of murdered MP Jo Cox.
In 2015, the Mail on Sunday reported that Mr Cox had stepped down from his position as chief strategist at Save the Children over allegations of "inappropriate behaviour" towards female colleagues – which he at the time denied.
After further allegations against him, Mr Cox resigned from two charities he set up in his wife's memory, again denying the accusations but admitting he "made mistakes" whilst working for Save the Children
Kevin Watkins, chief executive officer of Save the Children UK, said the charity had commissioned an independent internal review, adding: "We have made mistakes in our own handling of historical sexual harassment complaints from staff in the UK.
"Although some progress has been made in creating a more respectful working culture, there is a great deal more to do."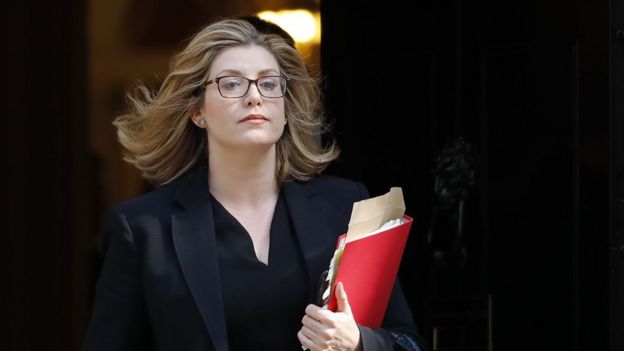 Mr Twigg said the Department for International Development should report annually on the safeguarding performance of the sector and ensure the Charity Commission has enough resources to police it.
International Development Secretary Penny Mordaunt welcomed the report, saying: "Until the sector is fully prepared to address the power imbalance, cultures, and behaviours that allow sexual abuse, exploitation and harassment to happen, we will never stamp it out."
Michelle Russell, director of investigations, monitoring and enforcement at the Charity Commission, added: "The charity sector must go further than simply box-ticking against their legal duties or improving processes and policies."
An international summit on the issue is due to take place in October, and Ms Mordaunt has called for the sector to demonstrate the progress they have made by then.
First Published 31.07.18: https://www.bbc.co.uk/news/uk-politics-45013078