Nike just thrust Kaepernick back in the spotlight – where he belongs
No matter how hard the league tries, Colin Kaepernick is still the most important NFL player not in the NFL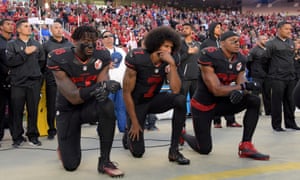 'Nike knows that the NFL, and its fan base, is polarized along a number of lines – most potently, political lines.'
Photograph: Kirby Lee/USA Today Sports
The 2018 National Football League regular season kicks off this week. And the most discussed player in the world of football, and beyond, is one that has been ousted from the NFL for over a year: Colin Kaepernick.
The image of Kaepernick's protest is forever embedded in the memory of NFL fans everywhere, as well as the NFL brass who ousted him after a fine 2016 season. However, the last time Kaepernick suited up for an NFL contest and took a knee was 1 January 2017, just over two weeks before Donald Trump was inaugurated president of the United States and 10 months before Kaepernick filed a collusion case against the NFL. This is a lifetime for millions upon millions of NFL fans, who just drafted their fantasy football teams and are gearing up for week 1.
Gino Fisanotti, Nike's North America vice-president for brand marketing, told ESPN: "We believe Colin is one of the most inspirational athletes of this generation, who has leveraged the power of sport to help move the world forward." With its new ad, Nike has thrust Kaepernick – and the professional sacrifice he made for his political beliefs – back into the center of football and broader political conversation.