South African man sacked after viral racist rant
A South African man has been sacked from his family business after making a racist slur in a video widely shared on social media.
Adam Catzavelos filmed himself on a beach, saying it was "heaven on earth" as there were no black people there.
He said a derogatory term used historically by white people to denigrate black South Africans.
Racism remains a major issue in the country, where white-minority rule ended in 1994.
A woman was recently jailed in South Africa for using the offensive word.
The hashtag #AdamCatzavelos began trending in the country on Tuesday when the video went viral on social media.
Twitter users identified Mr Catzavelos and called on businesses to boycott his family's company, which manufactures marinades and sauces and where he worked as a marketing director.
'Disgusted but not shocked'
Pumza Fihlani, BBC News, Johannesburg
Yet another racist video is causing a stir in South Africa. Many have taken to social media calling for action. Many have expressed anger and even disgust – but very few are shocked. This is perhaps because the country has been here before – it seems it is yet another lesson not learned.
In March, a woman was jailed for using the highly offensive "K-word", and the government is planning to criminalise hate speech to stem such outbursts.
But despite prosecutions it seems the message is not getting across. As many in the country debate what should happen to Adam Catzavelos, there is a growing impatience within the black community with turning the other cheek and forgiving the unrepentant.
It has left many to wonder what can be done to end racist intolerance 24 years after the end of apartheid's divisive white-minority rule.
His brother, Nic Catzavelos, sent a statement to the BBC on Wednesday saying the family was "appalled" by the video and "rejected racism in any form".
"Adam Catzavelos has been dismissed with immediate effect from the family business, St George's Fine Foods, and his minority shareholding will be unwound as soon as practically possible," it said.
"Given the high-profile nature of this development, the business has been temporarily closed for the protection of all its staff. We have no further comment at this stage."
A South African steakhouse, The Butcher Shop, said it was "boycotting" Mr Catzavelos and had stopped "serving any bastings or sauces" by St George's Fine Foods.
Another customer, the restaurant chain The Baron Group, said it had a "zero-tolerance policy" on racism and had "terminated" its contract with the marinade firm.
South African bank Nedbank and Radio 702 also distanced themselves from Mr Catzavelos, who took part in their business accelerator programme in 2014.
Criminal case 'planned'
South Africa's Culture Minister Nathi Mthethwa said use of the "K-word" was "absolutely unacceptable" and "had no place in our society".
"We must all work together to isolate racists and report these incidences to law enforcement agencies so they can be held accountable," he tweeted.
Opposition party the Economic Freedom Fighters (EFF) said it planned to file a criminal case against Mr Catzavelos.
Social media has unearthed numerous cases of racism in South Africa.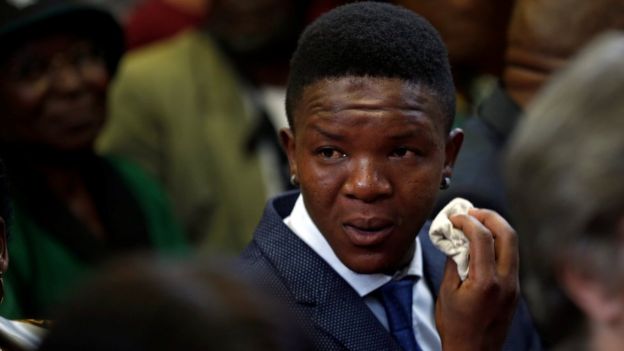 Two white South African farmers – who forced a black man into a coffin, beat him up and threatened to burn him alive – were sentenced to jail in 2017 after a video of the incident went viral.
In 2016, a woman was fined for calling all black people "monkeys" on Facebook.
Former estate agent Vicky Momberg was jailed after her racist rant was caught on video in 2016.
First Published 22.08.18: https://www.bbc.co.uk/news/world-africa-45269615