Typhoon Mangkhut: Philippines counts cost of deadly typhoon
The Philippines is counting the human and economic cost of Typhoon Mangkhut, which ripped through its main island with deadly consequences on Saturday.
At least 25 people are known to have died but blocked roads and downed communications lines mean the true impact on rural areas is not yet clear.
Extensive crop damage is feared in the agricultural province of Cagayan.
The storm, which packs a 900km (550 mile) rain band and strong winds, is heading towards southern China.
It poses a "severe threat" to Hong Kong, the territory's observatory said, urging residents to stay on high alert.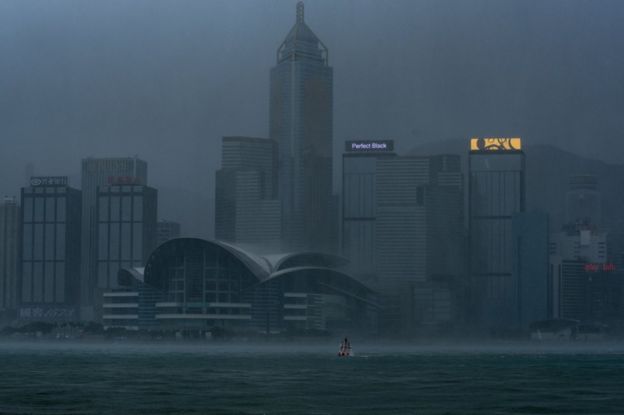 In the Philippines, it made landfall at Baggao, in the north-east of the main island of Luzon, at about 01:40 local time on Saturday (17:40 GMT on Friday) and left some 20 hours later.
Originally a super typhoon billed as the strongest storm of 2018, it lost some of its strength on landfall.
Five million people were in its path and more than 100,000 sheltered in temporary centres.
What is known about the victims?
Francis Tolentino, a presidential spokesman and disaster response coordinator, said almost all the deaths had been caused by landslides in the Cordillera and Nueva Vizcaya regions.
He added that reports from other areas were still coming in.
One person was killed by a falling tree in the province of Ilocos Sur, Mr Tolentino said.
Constant threat of landslides
Well-planned evacuations appear to have minimised casualties in the areas directly in the path of this powerful storm.
Nothing though has yet been heard from some more isolated communities. But the huge volume of rain brought by the typhoon has caused numerous landslides, some fatal.
This part of the Philippines is mountainous and severely deforested – landslides are a constant danger. The popular resort town of Baguio, well away from the eye of the storm, has been badly affected.
President Rodrigo Duterte is flying over the northern Philippines today to assess the damage; perceived failure to respond adequately to a previous typhoon hurt the political standing of his predecessor.
Aside from human casualties and the widespread destruction of housing and infrastructure, there is also concern over the longer-term impact on agriculture in this important food-producing area.
How bad is the damage?
Almost all buildings in the city of Tuguegarao, Cagayan's provincial capital, sustained damage, a government official said.
Francis Tolentino, political adviser to President Duterte, told the BBC that there was also extensive crop damage in the agricultural heartland state.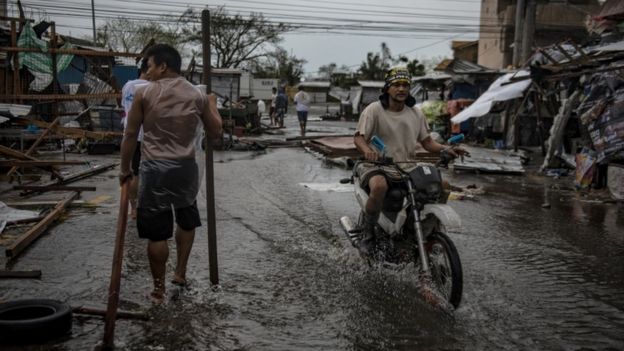 He estimated only a fifth of produce there had been harvested in advance – threatening staples like rice and corn.
The Philippine Red Cross chairman, Richard Gordon, told the BBC on Saturday that the country was not yet safe of danger.
"After the winds come the rains, comes the water, so the next problems that we have to face are floods and access to these areas again," he said.
The Philippines is routinely hit during the typhoon season but the strength of Manghukt evoked memories of the deadliest storm on national record – Super Typhoon Haiyan – which killed more than 7,000 in 2013.
However, preparation and evacuation procedures have been improved since then – warnings were issued, travel was restricted, schools shut and the army was put on standby in advance.
How is China preparing?
Mangkhut is still strong as it heads west toward southern China with current sustained wind speeds of 145km/h but fears it will re-strengthen into a super typhoon have receded.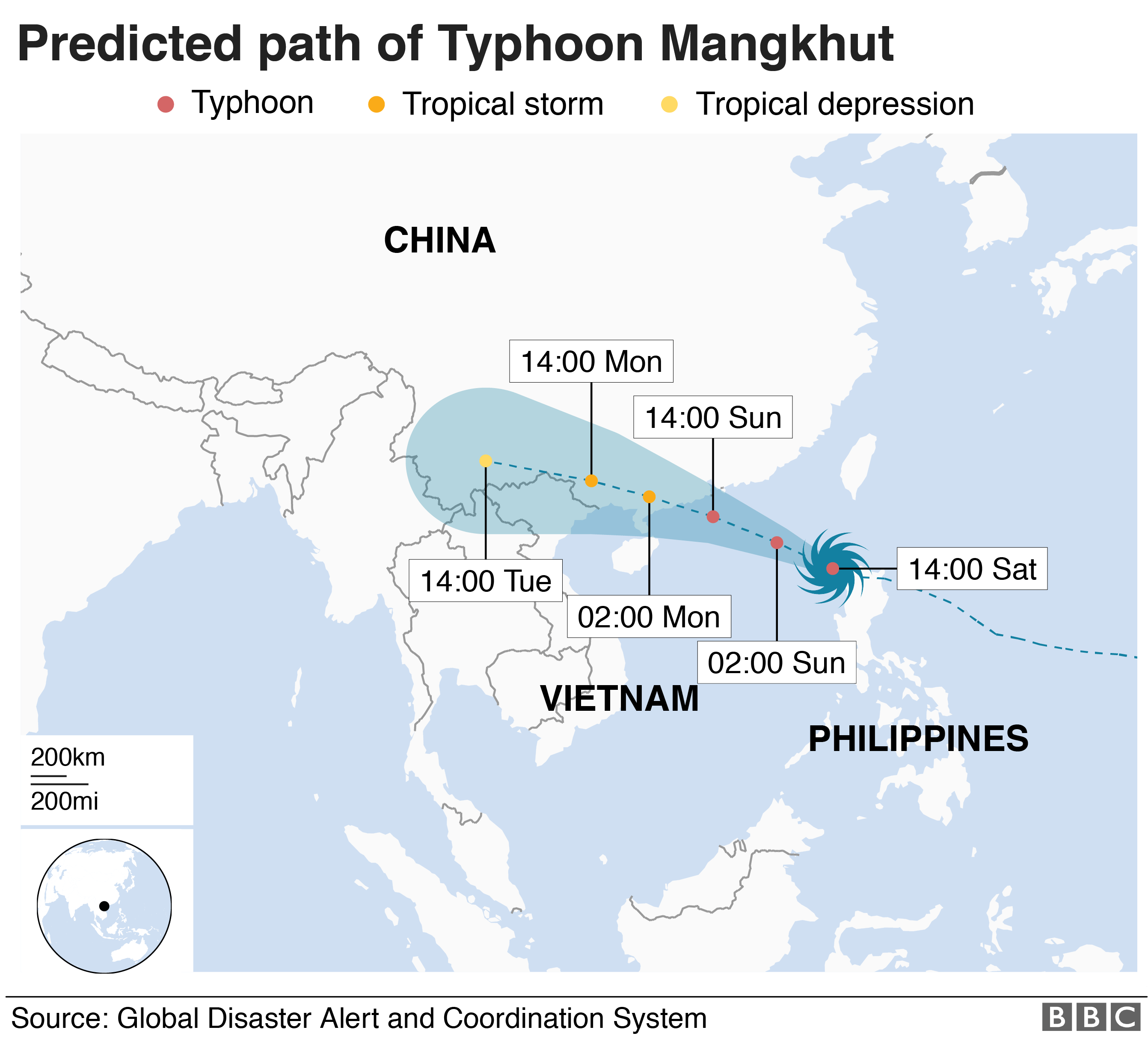 Authorities there have upgraded their warning level to a signal ten – the highest level – meaning residents should stay indoors to avoid any flying debris.
BBC News' Robin Brant said that the city is now "pretty much shut down", although some cars remain on the roads.
Most shops and public services are shut, and more than 800 flights have been cancelled at Hong Kong International Airport – affecting more than 100,000 passengers.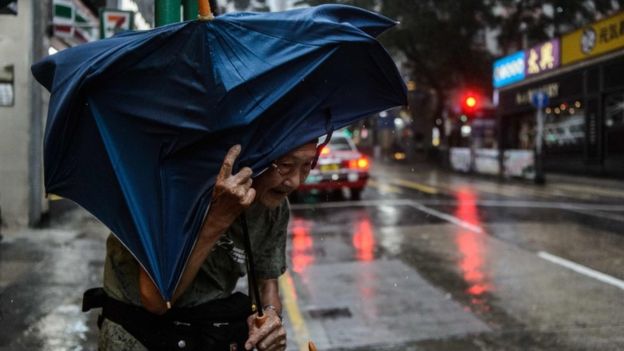 Antoine Li, a government official at an emergency centre in the fishing village of Tai O on Hong Kong's Lantau Island, said residents must not underestimate the storm.
"This typhoon will be very dangerous as it will arrive when everyone is sleeping and there is no way to leave so we have called on residents to leave the village before it gets dark," he told Reuters news agency.
Mangkut is expected to weaken into a tropical depression by Tuesday.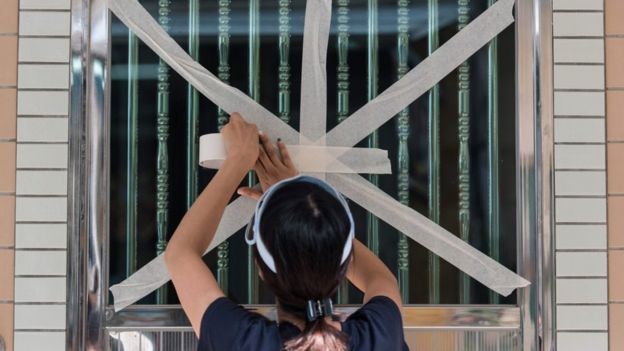 First Published: https://www.bbc.co.uk/news/world-asia-45537918