Maajid Nawaz: Finding the hero who saved me from a racist mob
When he was 15, Maajid Nawaz was attacked by a racist mob. A stranger was stabbed trying to protect him. Now, aged 40, Maajid wants to find him.
It was August 1993. Maajid, a British-Pakistani born in Essex, was at Chalkwell Park Fair in Southend with friends.
Suddenly they were accosted by a group of skinheads.
The group hurled racist abuse. They thrust their arms out in Nazi salutes. In the panic, Maajid's group of friends split and he found himself alone and surrounded.
"At that point," says Maajid, "I believed it was the last day of my life."
It was then, he says, that a passer-by intervened. The man appealed to the group to leave Maajid alone.
They did leave Maajid alone. Instead, they turned on the passer-by. Maajid, paralysed with fear, watched as the group beat and stabbed the Good Samaritan.
"This guy was on the floor and they still weren't satisfied," says Maajid. "Like a pack of hyenas, they were stamping on him and beating him.

"I felt this combination of perverse relief that I wasn't the one being attacked, but also guilt that someone else was – because of me."
Maajid never found out what happened to the man who saved him. The attackers ran off when the police arrived, and the man was whisked away by paramedics.
Maajid believes the man is still alive – because he never heard any reports of a murder inquiry and, although he passed his contact details on to police at the time, he was never contacted as a witness.
Despite being physically unharmed himself, Maajid says the attack had a huge impact.
"It led me to continue to segregate myself from my white friends," he says.

"I ended up with only South Asian and Afro-Caribbean friends. We found protection amongst each other – but it also meant other people weren't attacked because of us."
Growing up in Southend in the 1980s and early 1990s – in an era when the town's population was "99% white" in his description – racism was a familiar experience, says Maajid.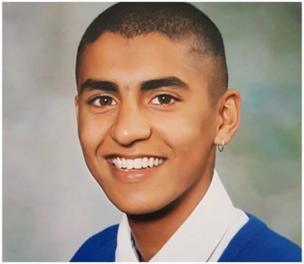 "I had friends that had been hammered in the head, friends that had been stabbed. We were used to being targeted and attacked by racist thugs in the streets.

"The way I processed all this was by becoming very angry and detached from society."
When he was 16, he joined the London-based Islamist group Hizb ut-Tahri. By the time he 24 he was imprisoned in Egypt, after being rounded up in the aftermath of the 9/11 attacks in New York.
He was released from prison four years later, after being adopted by Amnesty International as a "prisoner of conscience".
After leaving prison, he renounced his extremist views and returned to the UK, launching a foundation, Quilliam, to tackle extremism, and is now a radio presenter for LBC.
He says the memory of the man who saved him 25 years ago played a key part in his transformation.
"It reminded me that the world isn't just full of hatred," he says. "That there are good people out there from outside my community that stick their neck out to defend others."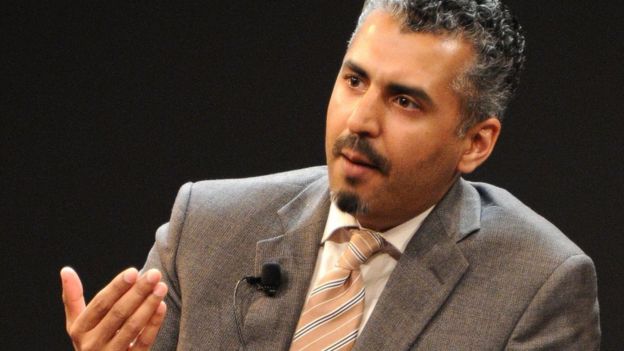 A couple of years ago, Maajid tried to trace the man who saved him through local newspaper and police archives. But without more details, he was unable to find a record of the incident.
All he could remember was that his saviour was a white man, with light hair, who appeared to be in his early 20s.
With the resurgence of extremism across Europe, Maajid decided to step up his efforts to find him, appealing on social media for anyone who might know who he was.
"I've seen the rise of all of this hatred, and it constantly reminds me of this guy reaching out to defend me across the divides," he says.

"That's an example for everyone in this country. I just want to thank him and let him know the impact he had on me. I just want him to know he saved my life."
Essex Police said, given the time lapsed, and the lack of further details about the attack, they were unable to find it in their record, and could not provide any further information.
Written By: Becky Morton
First Published 15.09.18: https://www.bbc.co.uk/news/uk-45500994