Cathedral offers zero hours jobs dubbed by Justin Welby as evil
A cathedral has started advertising zero-hours jobs, days after the Archbishop of Canterbury called the contracts "the reincarnation of an ancient evil".
Jobs being offered on a "flexible basis" at Gloucester Cathedral includes a porter and catering assistants.
Archbishop Justin Welby made his comments to the Trades Union Congress.
A cathedral spokesman said it used the contracts in "limited cases to carry out occasional tasks", such as events.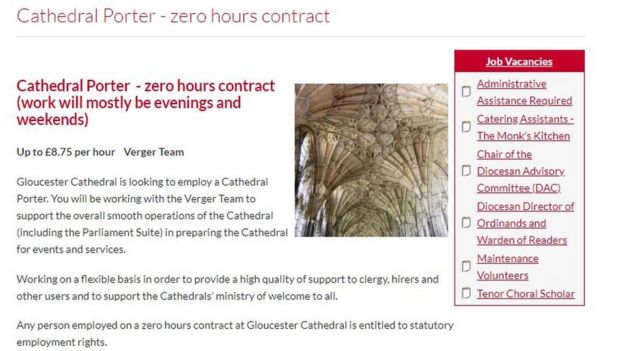 "We take our responsibilities as an employer seriously and are committed to paying the living wage; any person employed on a zero hours contract at Gloucester Cathedral is entitled to statutory employment rights," he added.
Archbishop Welby received a standing ovation at the TUC Congress in Manchester on 12 September when he attacked the benefits system, said the living wage should be higher and criticised firms like Amazon for paying "almost nothing" in taxes.
He also hit out at the so-called gig economy and zero-hours contracts, saying they were "nothing new", and adding: "It is the reincarnation of an ancient evil."
Amazon said in a statement:
"We pay all taxes required in the UK and every country where we operate."
A zero hours contract is one where the employer does not have to offer work and the employee has no obligation to work when asked.
First Published 18.09.18: https://www.bbc.co.uk/news/uk-england-gloucestershire-45559844