South African Kessie Nair arrested for rant against Cyril Ramaphosa
A convicted South African fraudster has been arrested over a racist rant against the country's President Cyril Ramaphosa on social media.
Kessie Nair is due to appear in court on charges of inciting violence and crimen injuria, or injuring a person's dignity, police said.
His family said he had mental health issues, and needed urgent medical care.
Racism remains a major issue in South Africa, almost 24 years after white-minority rule ended.
In a video widely shared online, Mr Nair, who is of Indian origin, used a racially derogatory word to describe Mr Ramaphosa.
He added that the president should be
"charged for defrauding this nation' for oppressing this nation' for high treason' for being the source to all crime and violence and poor health care and poverty in this so-called true democracy."
Mr Ramaphosa became president in February after Jacob Zuma was forced to resign over corruption allegations, which he denies.
Police arrested Mr Nair in Phoenix, a mainly Indian residential area in KwaZulu-Natal province, on Wednesday following outrage over his post.
The governing African National Congress (ANC) in KwaZulu-Natal condemned the video as "scurrilous", and said Mr Nair should face the "harshest punishment".
But Mr Ramaphosa's spokesman, Khusela Diko, said Mr Nair was:
"clearly a sick person and his racist rant is not deserving of any airtime"
South Africa's TimesLive news site reported.
"His tirade against the president demonstrates delusional and attention-seeking behaviour," Mr Diko said, before the arrest.
Mr Nair, a former councillor, was sentenced to six years in prison for fraud in 2005.
'I don't think I'm being racist'
He was a nephew of the late Billy Nair' who spent about 20 years in prison for fighting the racist system of apartheid, TimesLive reported.
"We have a history of being in the trenches fighting apartheid and being involved in the struggle for the liberation of this country from the shackles of the [white] nationalist government."
His brother Krishnan Nair was quoted as saying.
He added that his brother suffered from a chronic illness and "needs immediate medical care and attention".
Defending his post, Mr Nair told TimesLive: "I don't think I'm being racist. I want to make a point' which I did. I am prepared to face the consequences. If the nation feels I was wrong' I will accept." he said.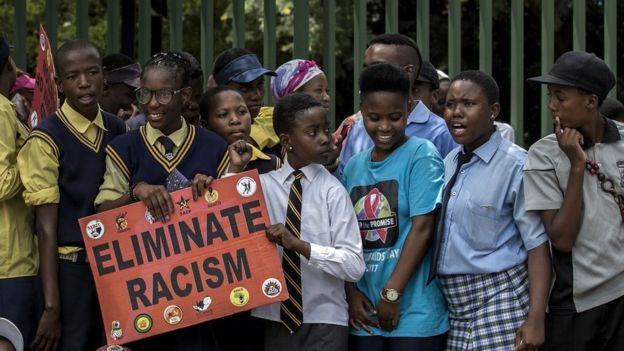 Several South Africans have been found guilty of racial abuse in recent years.
In March, a court sentenced former estate agent Vicky Momberg to three years in prison, with one year suspended, for using a derogatory word against a black police officer 48 times.
In 2017, two white farmers who forced a black man into a coffin, beat him up and threatened to burn him alive were sentenced to jail for more than 10 years each, after a video of the incident went viral.
In 2016, a court fined former estate agent Penny Sparrow 150,000 rand ($13,000; £9,000) for calling black people "monkeys" in a Facebook post.
First Published 20.09.18: https://www.bbc.co.uk/news/world-africa-45585951