Boy dresses like Black Panther hero 'to feel like himself'
"Co-worker made her 11-year-old a costume for his first Comic Expo visit. He was so excited to finally have a hero that looks like him!"
These words have resonated on Reddit in a post which received more than 68,000 upvotes.
Stephanie Hardy, 31, from Ohio, in the US, made a Black Panther costume after her son had a "rough day at school where he was picked on for his size".
One Reddit user says: "Behind every hero is a supermom."
She told the BBC she made it from his old football kit, some tape, feathers and spray paint to resemble the original character.
"M'Baku's kind of like me," she reported her son as saying.

"My son is 5ft 5in and 200lbs. He was born in August but he's a lot bigger than his older classmates," she said.
Mean and nice
Stephanie said the Marvel character M'Baku isn't a perfect superhero, but that her son loves him anyway.
"He's mean and nice like me," he said.
She said M'Baku is also physically bigger than the main Black Panther superhero which makes her son like him more.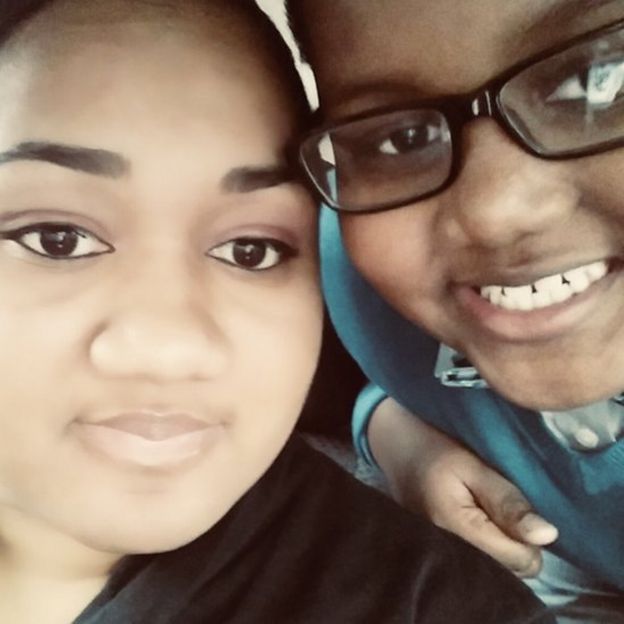 Proud to be who he is
Stephanie and her son have been going to the Cincinnati Comic Expo for three years but this year was the first time she had made a costume.
"He was so excited to be there. He was proud to be who he is."
She said people at the event wanted to take pictures with her son all day and this made him so happy.
"He smiled all day until he went to sleep," she said.

"He was asking me to post all my pictures on Instagram."