Ray BLK: 'I was told as a black woman, stick to songwriting'
Ray BLK says she was once told to be a songwriter, not a singer, because of her skin colour.
She tells Newsbeat that when she started out, a producer said
"as a black woman, there's no point".

"But I refused to follow that, I believed in myself and my talent and I wasn't going to let it be a disadvantage," she says.
The 25-year-old went on to become the first unsigned artist to win the BBC's Sound Of… prize, in 2017.
Ray BLK talked to us at a girls' school in Sydenham, south east London, where she had been speaking to 14 and 15-year-olds as part of 1Xtra's Inspire Me Tour.
Ray and other artists are visiting schools in London ahead of 1Xtra Live this weekend.
She shared the advice she would give her younger self with the Year Tens at Sydenham School, which included that she would say not to be on social media.
"I would tell my 16-year-old self just to stay focused, and not to watch what anybody else is doing."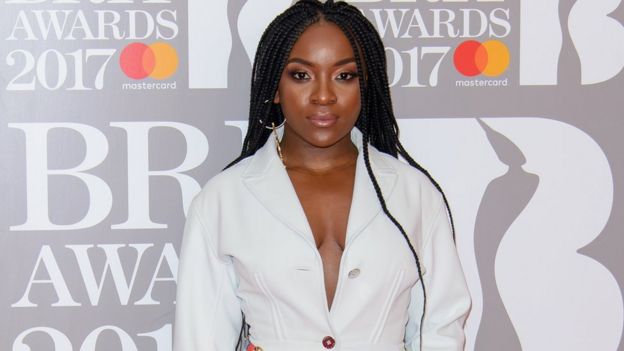 Ray also says she would tell her teenage self
"not to be seeing how this person looks and why I don't look like that, and why this person's getting this and that. And just to remain focused on my own journey."
She told Newsbeat it was important to her to give her advice at an all-girls school.
"I'm so happy… because girls really need to be empowered," she said.

"So many of these industries are male-dominated and girls really need to be uplifted and told they can do the role that they haven't seen any woman do before".

"Women have to work twice or three times as hard to get noticed or get their voice heard," she added.

"There is still this struggle of trying to be a strong woman but not trying to come across aggressive and just being worried of judgement.

"Being an artist in the industry women get objectified and you have to say 'I am a someone with a brain.'"
But she says she has always believed in herself and that kept her going.
Ray told the students one of her career highlights was singing the national anthem before the Anthony Joshua fight with Joseph Parker in March.
She even gave the students a little taster of her amazing voice.
Ray's latest single Run Run is about violence and knife crime in London, and was inspired by her own experiences.
"There needs to more opportunities, there needs to be more financial input in areas that are struggling."

"Then you'll start to see a change where people can go into different avenues and make money for themselves and not feel like they have to join a gang to make money."
Reflecting back on what she would tell 16-year-old Ray, she remembers how far she's come.
"You are a girl form a single parent home, council house-raised, didn't have money growing up, and now look, you're able to help your family," she says.

"You had this dream of being a singer and you were just in your bedroom with your hairbrush. Now, you're on 1Xtra doing an interview with Yasmin."
First Published 21.09.18: https://www.bbc.co.uk/news/newsbeat-45589523