'Urgent' need to tackle racism in schools
There is an "urgent" need for anti-racist education in Scotland's schools, according to a teaching union.
The EIS general secretary Larry Flanagan said the rise of far-right politics made challenging prejudice an increasingly "important task".
He was speaking ahead of an event to discuss embedding anti-racist education in the curriculum.
Scotland's education secretary insisted the current system was already equipped to deal with racism at every level.
'Racist attitudes'
Mr Flanagan said the Teachers Turning the Tide event in Glasgow was part of the union's ongoing commitment to anti-racist education across Scotland.
He said:
"Sadly, this work is becoming more urgent than ever as a result of the growth of the far right across Europe and increases in racist attitudes in many parts of society, including in political debate and via mass media."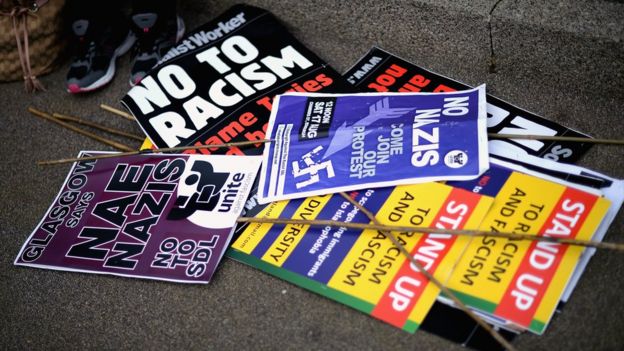 Campaigners argue that disciplining youngsters once they have acted in a racist way is inadequate.
Priya Khindria, from Show Racism the Red Card, said:
"As a multi-ethnic and multi-cultural society, Scotland's young people need to be educated around these topics."

"It is not simply enough to discipline those who exhibit racist behaviours – we must be proactive in teaching young people to prevent racist incidents from occurring."
Her sentiments were echoed by Labour's Anas Sarwar, chairman of Holyrood's cross party group on tackling Islamophobia.
He is using his speech at the event to endorse the call to change the curriculum and to discuss the impact of social media platforms on children who can access racist content and views.
He added:
"It feels like we live in a time where division, anger and hate is now politically fashionable. We – a collective we – have to stand up, speak out and challenge that. The fight against all forms of hatred, prejudice and bigotry is a fight for all of us."
'Sense of belonging'
However, Deputy First Minister and Education Secretary John Swinney said the government was taking a range of actions to ensure teachers were equipped to deal with racism in the classroom.
He said:

"Our education system is already designed to help tackle racism at every level, just as we are committed to tackling all forms of bigotry, prejudice and discrimination."
He added:
"We want to build inclusive, resilient and safe communities in Scotland where everyone feels connected, has a sense of belonging and feels valued."
First Published 29.09.18: https://www.bbc.co.uk/news/uk-scotland-highlands-islands-45692101
Help Keep The Faith deliver hope to global Christians during the coronavirus period
For 15 years, Keep The Faith's team of volunteers have provided our Christian journalism for free, and kept it open for everyone.
The coronavirus disease is affecting all global communities. Christians and people of faith all over the world are looking to our faith for answers during these troubling times. As more people fall ill with Covid-19 or go into self-quarantine over the next few days, we expect our visitors to grow even further.
Your gifts are so important to our future, and any donation will help. 100% of your gifts will be used to continue providing our services for free to help those who are in need of God's Word during these difficult times.
So please, continue to support us and everyone looking for hope. Partner with us in this journey together.