Can coding give Kenya's women prisoners a second chance?
"When I came to prison I didn't know computers."
Dorcus, 44, is beaming as she pulls apart the central processing unit of one of the prison's desktop computers, explaining to the newer classmates what each electrical component is for.
"Now I can do anything. I can even create you a computer," she adds.
Dorcus is one of more than 500 prisoners at Langata maximum-security prison, the only women's prison in Nairobi, Kenya's capital.
Some inmates are serving sentences of up to two years for hawking; selling things like peanuts or fruit on the side of the road.
Others are serving life sentences for much more serious offences, like murder or violent robbery. Whatever their crime, Kenya Prisons statistics from 2014 show between 60-80% of all inmates in the country will reoffend and land back in jail.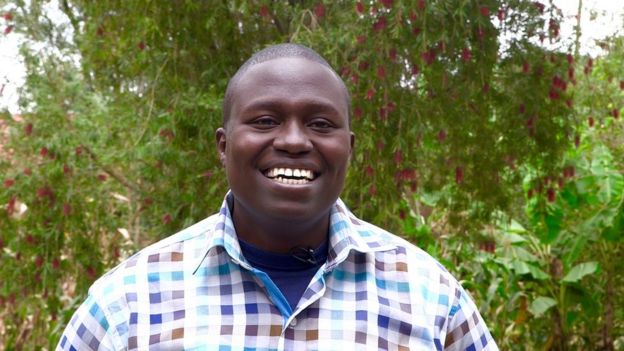 Aggrey Mokaya, 31, stands at the front of the prison classroom; inmates dressed in blue and white striped smocks with bright, burnt orange jumpers, huddle over computers, typing complicated code onto black computer screens.
He is both the founder of Change Hub, a technology focused rehabilitation programme, and a tutorial fellow at Jomo Kenyatta University of Agriculture.
"It's all about giving people a second chance," he says. "It's all about giving them a chance to tap into the economy they were not a part of before."
Change Hub teaches the women everything from coding and web design to computer repair. Aggrey believes it's this access to technology that will slash Kenya's high reoffending rates.
"An ex-convict and a person who has never committed a crime, in the eyes of the law they are the same," he says.

"So I think they should also be the same in the eyes of the economy, in the eyes of entrepreneurship or opportunities."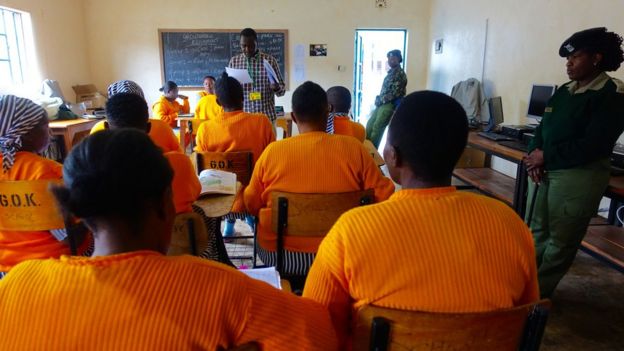 "If they are denied opportunities and chances to actually get into a space where they can make something of themselves we are basically setting them up to fail."
After serving half of her three-year sentence for forgery, Dorcus is being released in October 2018.
"I have five children and I'm a widow, so going back to those children is the most important thing to me," she says.
She has already built a website for her new dress-making business that she plans to launch when she gets out.
"I won't be moving around having dust on my feet as I don't have a car," she explains.

"It will change my life. I will be saving time and money."
Kenya's justice system is heavily focused on punishment, rather than rehabilitation, and it's this that needs to change, according to High Court Lawyer Achieng Orero.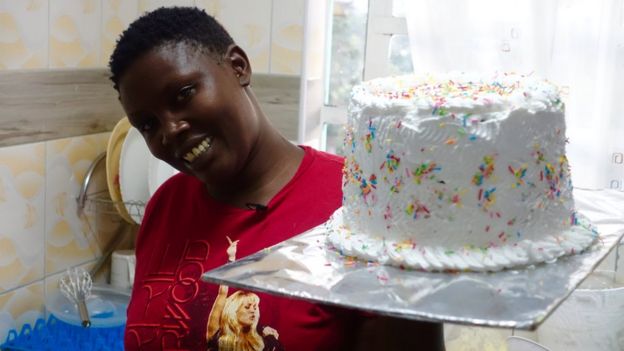 "I don't think there is concerted effort, a conscious effort that is being done to rehabilitate prisoners," she says.

"It's so important to include rehabilitation or to move away from the punishment based mentality, because at the end of the day the individual gets to come out of prison, that's the best way to equip them to be more useful in society."
On the other side of Nairobi, in a small, hot kitchen, 35-year-old Rahab Nyawira carefully spreads sweet, white icing over a large two-tiered cake.
She was released from Langata prison this year after serving six years for violent robbery.
"There's nothing you can compare with prison," she says. "Prison is the worst place to be but for me it was my turning point."
Rahab now runs her own baking business and has plans to bring her daughter and two sons into the company.
"My website, I can say, it is my superpower in my business," she explains smiling. "It helps me meet new clients online everywhere in Kenya."
She built her website while she was in prison.
"I learnt so many things through Change Hub. I was introduced to HTML, CSS and Javascript. For my website I coded everything myself."

"When my daughter sees me now, I feel so proud."
Aggrey believes it's this access to technology that could radically change female prisoners' lives once they're released.
"There's a gender bias when it comes to technology,"
he says, explaining why he focuses on women inmates.
"If I'm able to impact the life of one woman it means you know there is a knock-on affect. It's even a chance for her kids to get exposed to that programming early on."
Sustainability
Aggrey is looking for funding to expand Change Hub to reach the estimated 8,000 female prisoners in Kenya.
So far 21 prisoners at Langata have gone through his programme.
He has plans to make his project sustainable by working with companies who will pay the prisoners to code and build things using 3D printers.
After that, his dream is to take Change Hub to every prison in the country.
"When you talk about wanting to do a technology project everyone says why don't you go to the men's prison, or the juvenile prison?"

"I look at that and say yes it's important, but it's secondary. We will get there once we get it right at the women's prison."
This BBC series was produced with funding from Bill & Melinda Gates Foundation
Written By: By Tamasin Ford and Suzanne Vanhooymissen
First Published 09.10.18: https://www.bbc.co.uk/news/business-44852497