Kerch blast: Crimea college bomb attack kills 18
At least 18 people have been killed and dozens more wounded in an explosion at a college in Russian-annexed Crimea.
Officials said an "unidentified explosive device" detonated at the technical college in Kerch, where Russia has built a bridge between the peninsula and Russia.
Initial reports had suggested that the blast was some sort of gas explosion.
But a Russian national guard official said the incident was a deliberate "terrorist act".
Sergei Melikov said the explosion had been caused by an improvised explosive device.
National guard units had reached the scene of the "act of terrorism"' he told Interfax.
A local official said most of the blast victims were students of the technical college, which is a vocational school for teenagers.
Victims have been taken to hospital, and a major emergency response operation launched.
Four military planes were ready to evacuate the wounded and military hospital facilities were ready to accept victims if necessary, Russian Defence Minister Sergei Shoigu said.
Investigators released a statement saying an explosive device filled with "metal objects" had detonated in the dining area.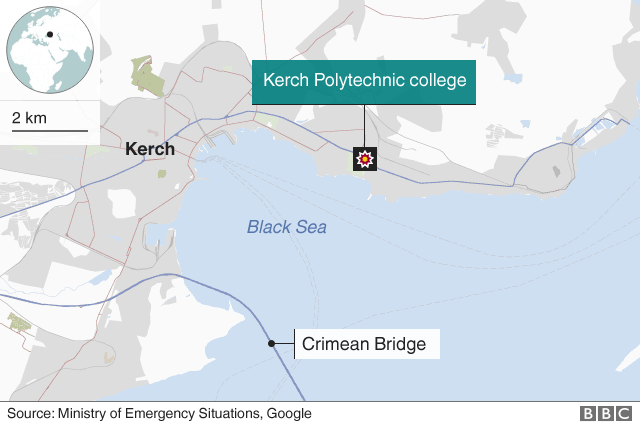 The director of the college, who had not been at the scene at the time of the attack, told Russian media that unknown armed men had broken into the building. She compared it to the school siege of Beslan in 2004, during which about 330 people died.
"There were lots of corpses, corpses of kids, a real terrorist attack," she said.
Sergei Aksenov, the Russia-backed leader of Crimea, told Tass that reports circulating on social media of a shooting after the explosion were untrue, and said the situation on the scene was calm.
He also announced three days of mourning for the victims.
Reuters news agency said the schools and pre-schools were being evacuated in the city after the blast.
Crimea, officially part of Ukraine, was seized by Russia in 2014 and annexed after a disputed vote that was widely condemned by the international community.
Ukraine and Russia have been on frosty terms ever since.
The speaker of the Russia-backed Crimean parliament, Vladimir Konstantinov, suggested Kiev may have been behind the explosion, saying "the entire evil inflicted on the land of Crimea is coming from the official Ukrainian authorities."
First Published 17.10.18: https://www.bbc.co.uk/news/world-europe-45891201