Liberia's blackboard newsman 'fears for his security'
Liberia's Alfred Sirleaf (no relation of the former president) has become famous for his news blackboard in the centre of the capital, Monrovia, which displays the news and issues of the day.
But he has had to close his operations after a vehicle crashed into the Daily Talk newsstand last week.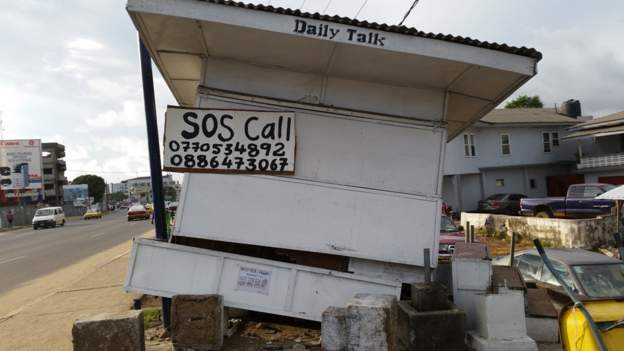 But Mr Sirleaf questions whether this was an accident.
He told the BBC's Jonathan Paye-Layleh that he thought the vehicle deliberately drove into Daily Talk and said eyewitnesses saw a black jeep with tinted windows and no number plates speed away.
Mr Sirleaf told our reporter that his reporting on corruption scandals, especially the recent case of the freshly printed money going missing, has made him a lot of enemies.
He said that whenever he is walking alone he has "serious security concerns".
Mr Sirleaf has now launched a public appeal for assistance in rebuilding the damaged newsstand.
First Published 22.10.18: https://www.bbc.co.uk/news/world/africa