Grenfell Tower bonfire: Five men arrested over video
Five men have been arrested on suspicion of a public order offence in connection with a model of Grenfell Tower being burned on a bonfire.
A video shared on social media shows a cardboard model of the tower being set alight by a laughing crowd.
The Metropolitan Police said the men – two aged 49 and the others aged 19, 46 and 55 – handed themselves in at a south London station on Monday night.
Prime Minister Theresa May had called the video "utterly unacceptable".
The footage shows a large model bearing a Grenfell Tower sign, complete with paper figures at the windows, being set on fire.
Laughter can be heard off camera as the effigy is set alight, with onlookers shouting "Help me! Help me!" and "Jump out the window!" as the blaze takes hold.
At the end of the clip a person can be heard saying:
"That's what happens when they don't pay their rent."
A total of 72 people were killed in the devastating blaze at the west London tower block in June 2017.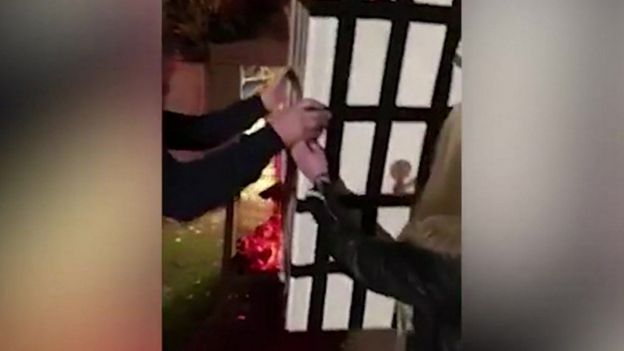 The men have been arrested under section 4a of the Public Order Act 1986, which covers intentional "harassment, alarm or distress" caused via the use of "threatening, abusive or insulting" words or signs.
Offences committed on a private residence where a person "had no reason to believe" it would be "heard or seen by a person outside that or any other dwelling" are protected from prosecution under the act.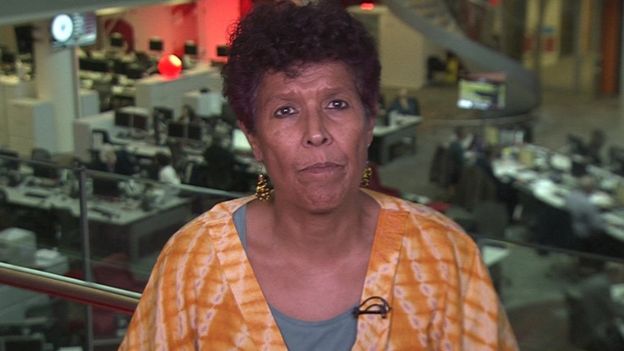 Moyra Samuels, part of the Justice For Grenfell campaign group, told the BBC the video was "a disgusting attack on vulnerable people".
She added: "We have no doubt that there are actually decent, generous people across Britain and this actual act doesn't represent ordinary British people.
"But there is a worrying rise of racism in this country at the moment. And that is concerning, because it's now starting to impact on us directly, which means that we actually need to be thinking what we do about this, and how we respond to this as a whole."
Natasha Elcock, from Grenfell United, said:
"Not only is it extremely upsetting to survivors and people who lost family, it's hateful and offensive to everyone that has been affected by the tragic events of that night."
Under the Public Order Act, racially or religiously aggravated offences carry a prison sentence of up to two years, a fine or both.
Help Keep The Faith deliver hope to global Christians during the coronavirus period
For 15 years, Keep The Faith's team of volunteers have provided our Christian journalism for free, and kept it open for everyone.
The coronavirus disease is affecting all global communities. Christians and people of faith all over the world are looking to our faith for answers during these troubling times. As more people fall ill with Covid-19 or go into self-quarantine over the next few days, we expect our visitors to grow even further.
Your gifts are so important to our future, and any donation will help. 100% of your gifts will be used to continue providing our services for free to help those who are in need of God's Word during these difficult times.
So please, continue to support us and everyone looking for hope. Partner with us in this journey together.