Man jailed for church and temple fires in Edinburgh
A man with "issues" with God and religion who started fires at two places of worship in Edinburgh within minutes of each other has been jailed for four years.
Paul Johnson, 49, told police after he was arrested for the August fires at a Methodist church and a Sikh temple he had wanted to watch them burn down.
Johnson claimed he was wanting to make "a political statement".
Johnson pleaded guilty to two charges last month.
Burn marks
Advocate depute Alan Cameron said:
"When asked whether this was religiously motivated he stated that he has no issue with any particular religion but his issues are with religion and God in general."
Passing sentence, Lord Boyd told Johnson that he had no other option but to impose a custodial term on him.
He added:
"Your actions put people at risk. They were reckless and wicked. I take into account that your actions were motivated by a grudge against religion and religious authority and not against one particular religion.

Indeed, I take into account that you appeared not to know what denominations you targeted."
Johnson admitted two charges of wilful fire raising aggravated by religious prejudice when he appeared at the High Court in Edinburgh last month.
He pleaded guilty to setting fire to the doors of the Leith Methodist Church at Junction Place, in Edinburgh, on 28 August this year by pouring petrol over them and applying a naked flame resulting in charring and burn marks.
He also admitted on the same day setting fire to the doors of the Guru Nanak Sikh Temple at Sheriff Brae, in Edinburgh, by gathering combustible material, placing it against the doors, pouring petrol on it and applying a flame with the result that the doors caught fire and smoke penetrated the building endangering the life of inhabitants.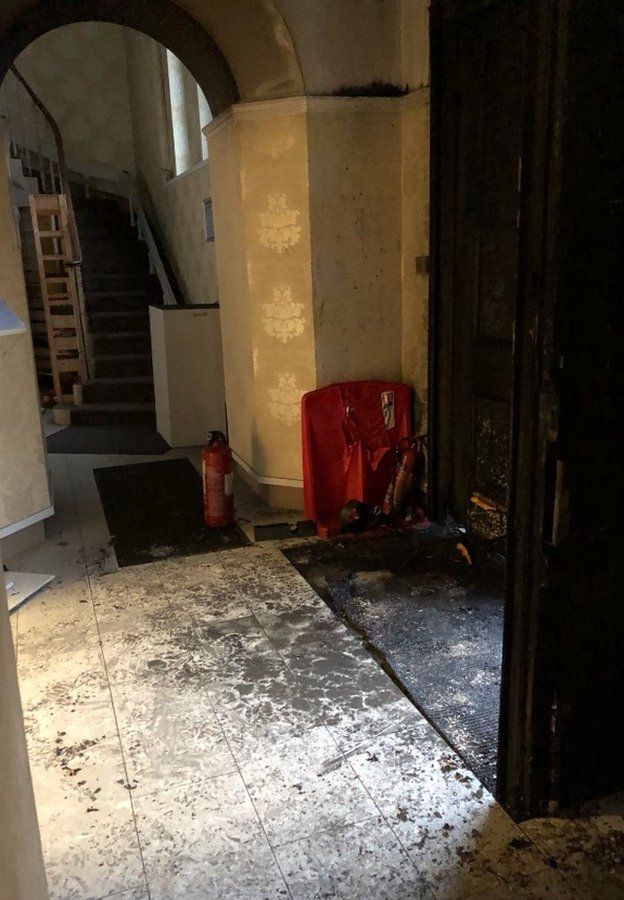 Before 05:00 Michal Kazimierczak walked to the temple with the intention of praying at the entrance before going to work and tried to clear what appeared to be litter from the a gap at the bottom of the doors only to discover it was alight and had taken hold.
He ran to the side of the building and alerted the sleeping priest and both men then tried to put out the fire using a bucket of water.
The fire brigade was alerted and 11 firefighters were deployed to bring the blaze under control. Significant burning and charring was seen on the doors and smoke had engulfed the building.
A caretaker at the Methodist church arrived at his work and smelled petrol and burning and saw scorch marks at the gate and steps at the front door. After media reports of the fire at the Sikh temple he contacted police.
Unemployed Johnson was caught on security cameras buying a jerry can and petrol at a BP service station in Ferry Road before midnight on 27 August.
He was also seen on footage approaching the front door of the church shortly after midnight and a flash of light was captured.
Johnson was also seen on CCTV approaching the temple with the jerry can and lighting paper and throwing it towards the door.
He repeatedly returned to light more paper and a burst of flame was later seen before he fled.
He admitted to police that he started the fires.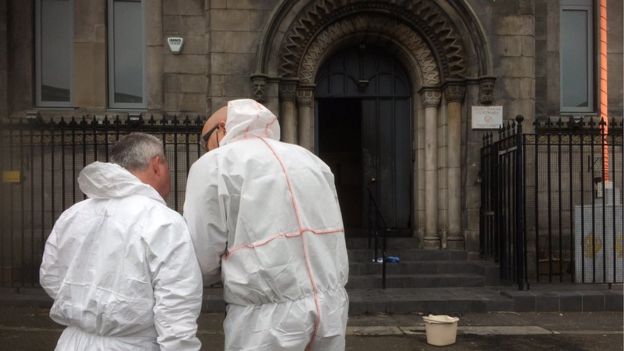 Det Insp Grant Johnston, of Police Scotland, said:
"Paul Johnson showed absolutely no concern for the safety or wellbeing of those in or around either place of worship when he started these fires.

As a result of a swift police investigation, Johnson was quickly traced and arrested in connection with the fire and has now been given a custodial sentence.

We treat all hate crime incidents with the utmost seriousness and whenever such offences occur, we will conduct a thorough inquiry to bring those responsible to justice."
First Published 15.11.18: https://www.bbc.co.uk/news/uk-scotland-edinburgh-east-fife-46222968