My white family couldn't handle my afro hair – so they cut it short
Kelsey's hair was cut short by her adoptive mum, who didn't know how to deal with it. Today she's inspiring others to embrace their natural hair.
Kelsey Rickards, 25:
Standing in front of the mirror, I wrapped a towel round my head and flicked the end over my shoulder. I was trying to imagine it wasn't a towel at all, but the long, shiny hair I'd dreamed of having since I was a little girl.
If I stood a certain way, it almost looked like I had a straight ponytail. But I knew the truth. I unwrapped the towel, revealing the short, boy-like afro beneath.
I was 13 years old, a mixed-race child adopted into an all-white family. For as far back as I could remember, I'd longed for the silky, straight hair of my blonde, blue-eyed sister.
You might be thinking 'Hair is just hair – what's the big deal?' But for me, my hair is part of my identity, my heritage. It's a connection with black culture that I never fully experienced as a child growing up in Liverpool.
These days, influencer culture is increasingly encouraging young women to embrace their natural hair. A quick search of #naturalhairstyles on Instagram brings up 2.7 million results, dominated by images of black women with every style from braids to afros. But for me, the journey to embracing my natural hair has been far from simple.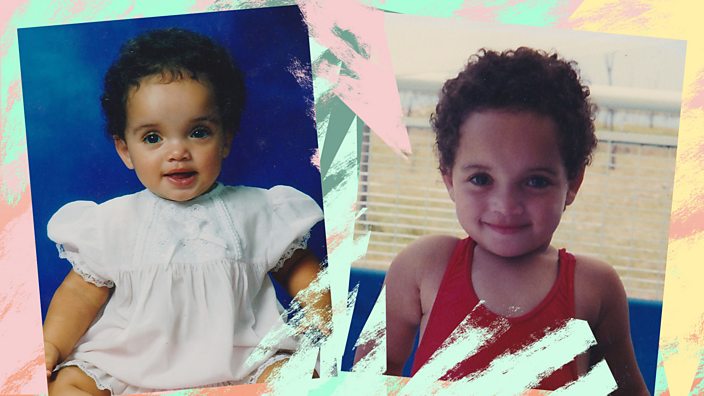 I was born in Zimbabwe, in January 1994. I didn't know much about the circumstances that led to my adoption, until I tracked down my biological mother in 2017. A year earlier, I'd resolved to visit the country of my birth and find out more about where I came from. So, I saved up the money and prepared myself for what could be a long and difficult process.
Luckily, I managed to get hold of my adoption papers within a few months. Finally, I had the name of my biological mum. We tracked her down on Facebook and found a woman who looked a lot like me. I messaged her, excited that I'd finally know more about who I was – to my relief, she messaged me back and we started communicating regularly.
She's white and originally from Bulgaria, but had been living in Zimbabwe. She told me she was with my dad for two years. From what I know, he was mixed-race or black – she hasn't told me about his background. She became pregnant with me at 18. She had a small bump and, by wearing loose clothes, managed to keep her pregnancy a secret until eight months. When her parents found out, they were furious, and though she wanted to keep me, she felt she wouldn't be able to look after me. My dad found out at the same time and left. So I was adopted in Zimbabwe at seven days old.
My adoptive parents are white – their families emigrated to Zimbabwe before I was born. My adoptive mum couldn't have kids and had gone through failed IVF attempts. I was brought up there until the age of six. I went to a good school, had friends and felt like I fitted in. I had one younger sibling, my blonde and blue-eyed sister, who was also adopted.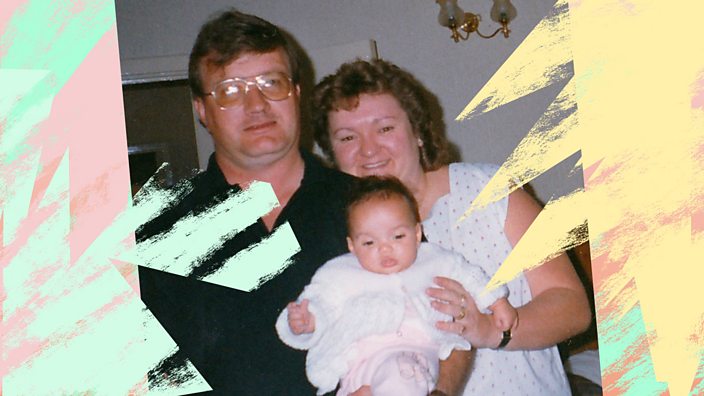 Around age three, my natural curls started to grow. My adoptive mum has straight and light hair. As soon as mine started growing, it became difficult for her to handle, as she'd had no experience of it. I'd scream when she tried to comb it. Her solution? To cut my hair off.
When I turned six in 2000, political unrest in Zimbabwe led us to move back to the UK, and we settled in Liverpool, where my adoptive mum's family are from.
Straight away, I was aware that I didn't look like other kids in my school. On my first day, I sat in the foyer of my new primary school, watching the girls and boys. All the girls I saw had long, straight hair. I couldn't see another black student. I remember touching my cropped hair, feeling out of place – and angry. My mum would tell me she thought I looked cute, and her friends would say so as well, but it didn't make me feel much better.
Every few weeks, I'd be put in a chair in the living room for my well-meaning auntie, who's a hairdresser, to cut my hair. She tried her best to cut into a nice shape to stop me feeling like a boy – but the older I got, the more the haircuts upset me.
I vividly remember one kid running after me at lunch pointing at my hair and calling me 'Michael Jackson'.
My auntie knew about products suited to my afro-textured hair, but they were expensive and there was no way my parents could afford them. So again and again, it was cut. I'd sit in sulky silence as locks of black hair covered the floor below me.
What made everything worse was the fact my sister's long blonde hair was always being put into styles like plaits and bunches. It made me feel so left out. Meanwhile, people at school would sometimes mistake me for a boy. I vividly remember one kid running after me at lunch pointing at my hair and calling me 'Michael Jackson'. It made it difficult to make friends, and I kept to myself.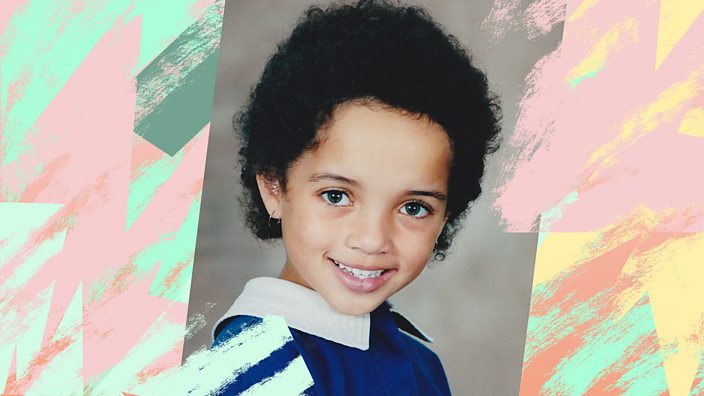 Being picked on at primary school was one thing, but secondary school was a whole new battlefield. In a school of over 1,500 pupils, there was only a handful of students of colour. I experienced racism in other ways, too: some of the boys in my class got into trouble for calling me the 'n' word over messenger. Each incident made me feel like I didn't belong.
And yet, the haircuts continued. I became increasingly resentful and frustrated. I wanted to learn to manage my own hair but I didn't know what to do. Finally, aged 13, I was so upset after a particularly bad haircut that I told my mum firmly that I didn't want it cut anymore. To my relief, and surprise, she told me I was old enough now to look after it myself, and I could grow it if I wanted to.
Mum's supportive of my hair now. Recently, I questioned why she always used to cut it short. She was upset and said she'd tried her best. I'm not resentful towards her or my auntie anymore. It wasn't their fault I got bullied. Those experiences were horrible, but I wouldn't be who I am now if they hadn't have happened.
My curls grew out quickly. I asked for straighteners that Christmas and ordered cheap hair extensions. Walking into school after the break, I remember flicking my new long, straight hair and noticing a group of lads who used to taunt me staring, only this time, with appreciation.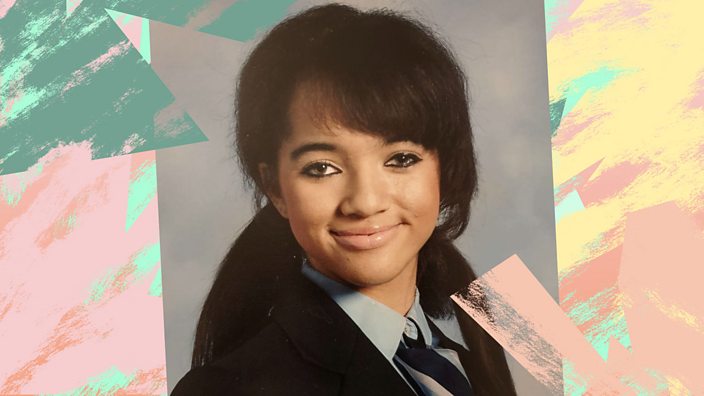 I met my first boyfriend when I was 14. We got chatting over MySpace and met up in Liverpool city centre. It wasn't long before he invited me to meet his family. He's black, as are his mum and sister. I remember going to his house and looking at his mum's braids and his sister's thick, curly hair. They looked so beautiful and proud – I realised I didn't feel like that about my hair. I'd always wanted my straight hair, but had I wanted it for the wrong reasons?
Hair is more than what it looks like … for black and mixed-race women, it's often political.
My boyfriend introduced me to elements of black culture I'd never been exposed to before – books by black authors, traditional dishes, music. One day, he suggested I'd look amazing with my natural hair. It was the push I needed. I ditched the straighteners and extensions. I was worried about the reaction after so many years of bullying, but needed to give it a go.
I started teaching myself how to look after it by reading natural hair blogs and watching early YouTube videos. I'd spend hours in my room learning about which products to use and how to detangle curls. After about nine months, it had grown into thick, full curls. For the first time in my life, I loved my hair.
For me, hair is more than what it looks like; it's not just about whether it's curly or straight – for black and mixed-race women, it's often political. There have been reports of black women being told to straighten their hair for work, even though chemicals in some popular hair products aimed at de-frizzing black hair are being linked to breast cancer and infertility.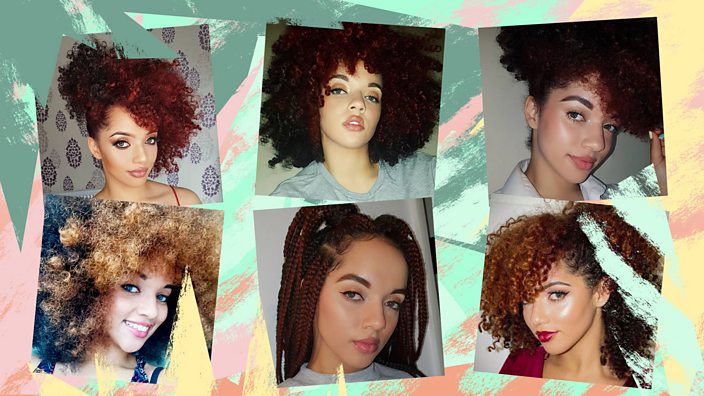 Since then, I've wanted to empower young women to love their hair like I do now, so I post my own natural hair tutorials on my Instagram. I have 20,000 followers so far. I get messages every day from young women telling me I've helped them with their own hair journeys. My auntie loves how I style my hair now, and even helps me dye it.
When I have my own kids, I'm going to make sure I keep in mind what I've been through on my hair journey. They'll be skipping off to school with curls, or braids, or whatever style they want – hopefully without any 'Michael Jackson' comments to ruin their day.
As told to Eleanor Layhe
First Published 14.02.19: https://www.bbc.co.uk/bbcthree/article/321b6a52-b4e8-4d22-a69c-68f7b79a998b?intc_type=singletheme&intc_location=bbcthree&intc_campaign=bbcthree&intc_linkname=article_embracenaturalhair_contentcard16