Kenyan anger over Turkana 'starvation' being ignored
Kenyans have accused their government of ignoring drought victims following reports that at least 10 people have died of hunger in the north-western Turkana region.
The hashtag #WeCannotIgnore has been trending on Twitter in the country.
The Kenyan government has said more than 1.1 million people are facing food shortages.
But authorities say this figure is "normal" and the deaths are not directly related to the drought.
James Oduor from the Drought Management Authorities told the BBC that there is nothing unusual about one million people facing starvation.
"Due to poverty, almost under normal circumstances about a million people always require food assistance because… they are poor," Mr Oduor told the BBC's Newsday programme.
He added that the rains from October to December were lower than normal.
'Not yet an emergency'
Livestock disease, a locust invasion and insecurity in the region have also been blamed.
But Mr Oduor said that this "is not yet emergency".
"For example 2017, in March, at the height of drought, when the president declared drought a national disaster, we had almost 3.4 million [in need],"
he said.
The matter has been trending on Twitter in the country following posts by BBC journalist Roncliffe Odit on Monday of these pictures:
Although it is the second largest of Kenya's 47 counties, Turkana is also the poorest.
Situated in the extreme north-west, Turkana is one of the driest and least developed regions of Kenya and some critics say politicians only visit the area when they appeal for votes.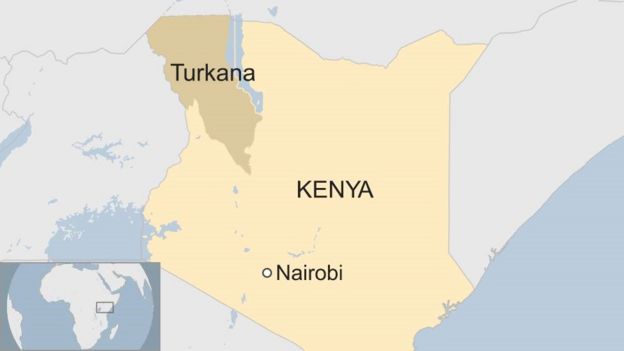 First Published 19.03.19: https://www.bbc.co.uk/news/world-africa-47624616
Help Keep The Faith deliver hope to global Christians during the coronavirus period
For 15 years, Keep The Faith's team of volunteers have provided our Christian journalism for free, and kept it open for everyone.
The coronavirus disease is affecting all global communities. Christians and people of faith all over the world are looking to our faith for answers during these troubling times. As more people fall ill with Covid-19 or go into self-quarantine over the next few days, we expect our visitors to grow even further.
Your gifts are so important to our future, and any donation will help. 100% of your gifts will be used to continue providing our services for free to help those who are in need of God's Word during these difficult times.
So please, continue to support us and everyone looking for hope. Partner with us in this journey together.