State of the Nation report: Inequality in UK 'entrenched'
Inequality will remain entrenched in the UK "from birth to work" unless the government takes urgent action, the Social Mobility Commission has warned.
Its State of the Nation report said the situation had remained "virtually stagnant" since 2014.
It is calling on ministers to provide additional funding for older teenagers in education and to extend free childcare to more low income families.
The government said it would take the recommendations seriously.
The findings will come as a setback to Theresa May who promised to tackle the "burning injustice" of social inequality when she entered Downing Street in 2016.
However, the following year, all of the commissioners on the Social Mobility Commission – set up in 2010 to monitor and promote social mobility – resigned, saying the government was too focused on Brexit to deal with creating a fairer Britain.
---
'A catch 22'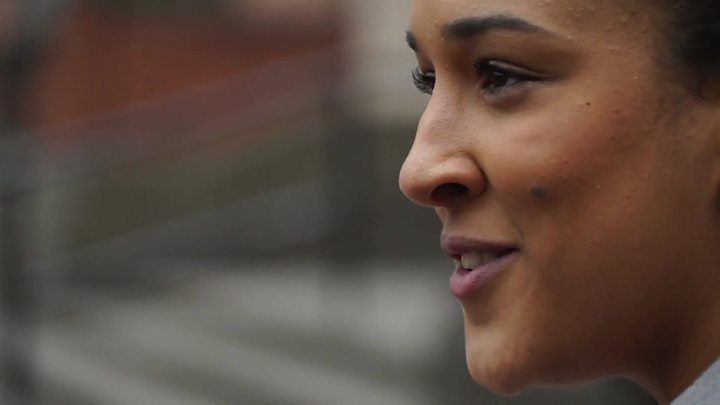 Law graduate Paris McKenzie, 25, wants to be a solicitor but said there are not enough training contracts in her home city of Nottingham.
"I have barely come across any, and I constantly search for them. There are lots in London,"
she said.
But the single mother said she did not "have the means" to move to the capital, where she said she would not have support and would struggle to pick up her son from nursery herself.
"It's a catch 22, my opportunities are very limited,"
she added.
Dame Martina Milburn, who has since been appointed as the new chairwoman, said she sensed there was now "a real commitment" from the government.
However, she said the biggest concern was not stagnation, but that the problem might actually get worse.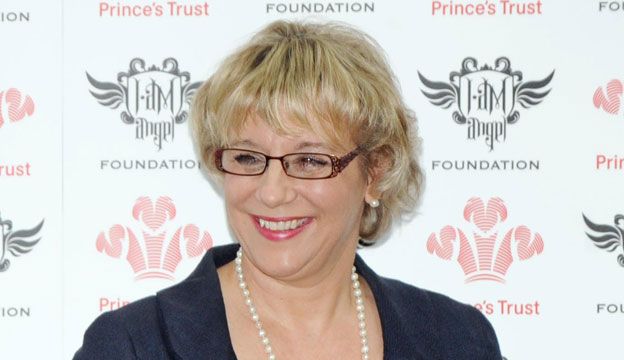 "There's still a big shift – if you want to be socially mobile – towards London,"
she told BBC Radio Four's Today programme.
"I think you're three times more likely to move to London if you're from a professional background than if you're from a working class background."
Education Secretary Damian Hinds said he welcomed the "thorough" report – the first since the new commissioners were appointed – but stopped short of saying the government would adopt all of its recommendations.
The report recommends:
a "significant increase" in funding for all 16 to 19-year-olds in education, with a special "student premium" for the disadvantaged
extending the offer of 30 hours of free childcare a week to cover households where one parent is working eight hours a week – currently one parent must work at least 16 hours
the government agreeing to pay the voluntary living wage to all of its employees and contracted workers, including cleaners and catering staff
The report found those from better-off backgrounds were almost 80% more likely to be in a professional job than their working class peers.
It said the proportion of people from professional backgrounds who were in professional jobs was 60% last year.
In contrast, only 34% of those from working class backgrounds had professional jobs last year. And both figures had changed only slightly over the past four years.
"Being born privileged means you are likely to remain privileged,"
said Dame Martina, who is also chief executive of the Prince's Trust.
"But being born disadvantaged means you may have to overcome a series of barriers to ensure you and your children are not stuck in the same trap."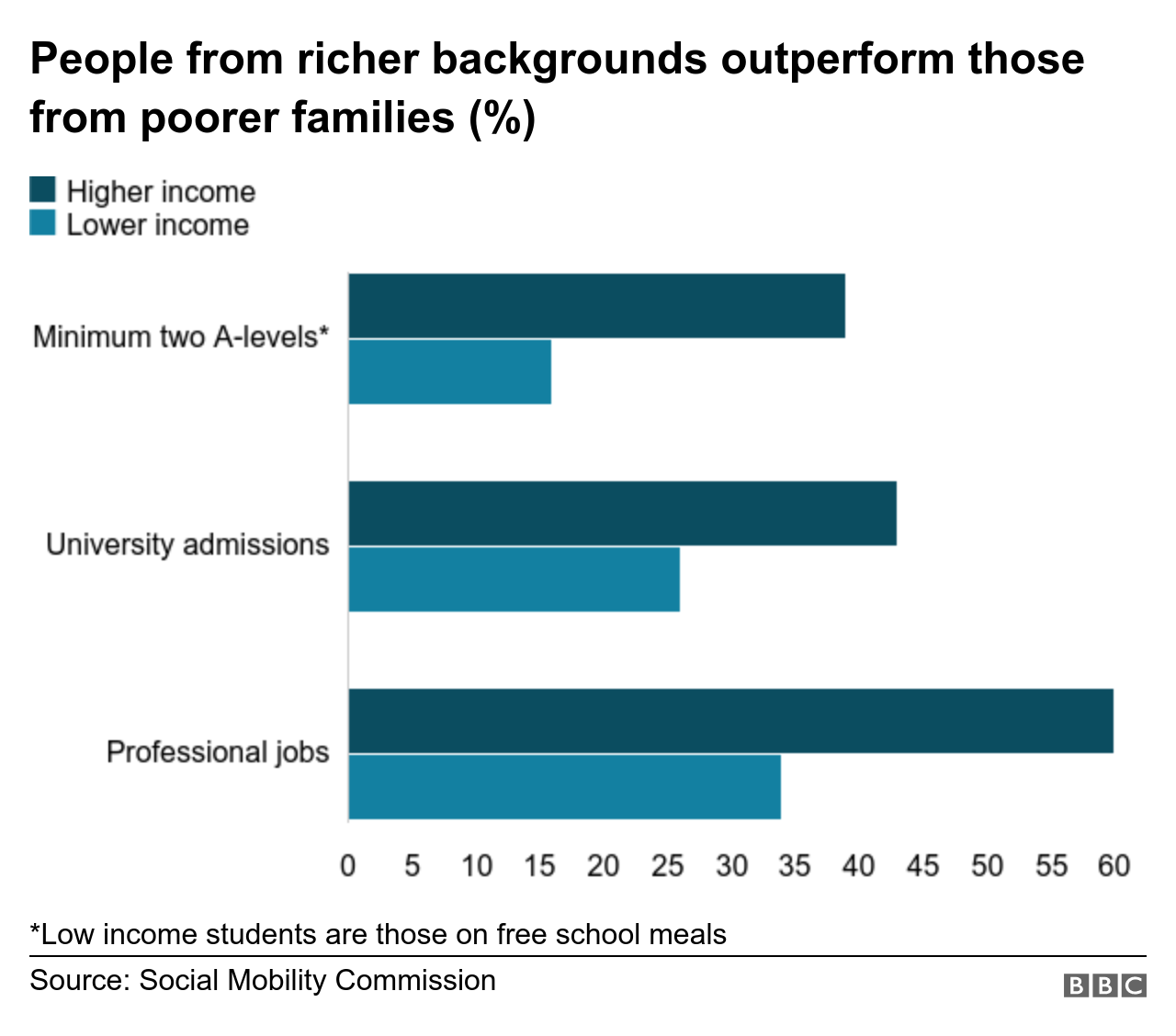 The Social Mobility Commission said an increasing number of students from low-income families were entering university by the age of 19. That proportion has now reached 26%, compared with 43% of better-off peers.
But, five years after graduating, those graduates who had been on free school meals at school were in jobs that earned 11.5% less than other graduates, the report said.
It found barriers to getting a top job were there from the start – about a half (52%) of disadvantaged teenagers leave school without basic qualifications and many get stuck in low-paid work.
Adult education could help to redress that, said the report, but almost all forms of adult education have been in decline since 2010.
There were also longer-term concerns that divisions could worsen as low-paid and low-skilled jobs were more likely to become automated in the future.
Professor Diane Reay, from the University of Cambridge told BBC Radio 4's World at One: "The expansion in the labour market is at the bottom – in the low-paid casualised jobs – rather than in the high-paid, more elite jobs.
"We need to radically change the hierarchical structure of English society, not just the social class of a few individuals."
Paul Gregg, a professor of economic and social policy at the University of Bath, who resigned from the Social Mobility Commission in 2017, told the programme:
"It's still the case that Brexit is sucking all the political oxygen in government [from] any kind of social reforms."
The education secretary said employment had risen in every UK region under this government; wages were outstripping inflation; the gap between disadvantaged pupils and their peers has narrowed; and the proportion of 16 and 17-year-olds in education or apprenticeships was at its highest ever.
---
Easier for the better-off to grab opportunities

Career progression and better-paid work is more likely if people move regions – particularly if they go to London, the data shows.
Too often provincial towns and cities don't have the employment infrastructure to ensure career progression, notably in professions like law and accountancy.
Those from wealthier backgrounds are more likely to be able to make that kind of move, with the resources and support to grab opportunities wherever they may be.
Some believe devolving power and prestige to local government and combined authorities is the way to ensure a more even spread of growth and new jobs – and make the country less reliant on London.
In England, the Northern Powerhouse and Midlands Engine are initiatives to achieve just that within the wider industrial strategy.
But there are concerns that not enough resources are available to achieve significant structural change.
Main image copyright: Getty Images.
First published 30.04.19:
https://www.bbc.co.uk/news/uk-48103017