Police handcuff black boy worshipping at church because he 'looked suspicious'
You can help support Keep The Faith; Click here to find out how
A police force has become embroiled in a race row after officers handcuffed a teenage church volunteer because he looked "suspicious".
Vanylson Silva, 14, had cycled to St Paul's Church, in Worcester where he helps out on a weekly basis before and after Sunday services.
As he entered the building, officers who had been following him, grabbed his arm and handcuffed him.
Vanylson's mother Vanessa Santos said it was only when church-goers explained he was a volunteer, that he was released.
The officers offered no explanation or apology, she said. 
Ms Santos believes her son, who is black Portuguese, was targeted for no other reason than the colour of his skin – a claimed denied by West Mercia Police. 
"The church workers told the police he was a volunteer. They uncuffed him and left, without even an apology,"
she said. 
"I just think it is harsh the way they dealt with it. There was no reason for him to be cuffed at 14 years old. What would you expect a young boy to be doing inside a church on a Sunday morning.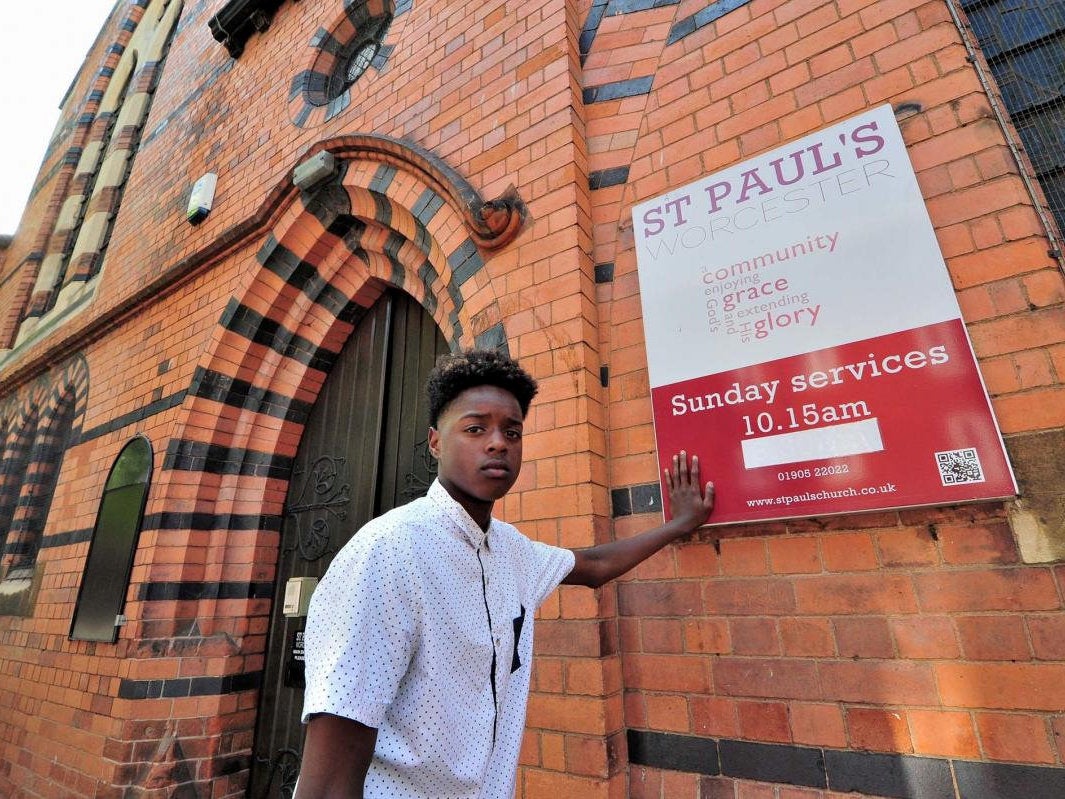 "I prepare my son and tell him that with our skin colour, unfortunately we are labelled. I tell him that people will react in different ways and some people will be nice to him, but others will not be so nice."
Ms Santos said her son was left "embarrassed and distressed" by the incident.
She said:
"He's a normal boy, he plays football five days a week, once a week he rides his bike with his friends. But he is not out on the streets, he knows to keep away from boys that smoke and drink."
West Mercia Police said officers stopped the boy because there had been reports of drug dealing in the area.
Inspector David Troth said:
"Police were patrolling on St Paul's Street in Worcester on Sunday morning when they saw a member of the public acting suspiciously.
"Officers approached the individual to begin a stop and search due to both their behaviour and concerns about drug dealing in the local area.
"Shortly afterwards, officers were made aware the individual had legitimate reason for being in the area and determined that no offences had taken place and grounds to continue with any subsequent search no longer existed. As such, the search was not conducted."
SWNS contributed to this report.
Written by: Chiara Giordano
First published 25.07.29: https://www.independent.co.uk/news/uk/home-news/police-racism-row-black-boy-church-worcester-vanylson-silva-a9020391.html
Before you go, we've noticed you've visited Keep The Faith a few times; we think that's great! It's regular support from readers, like you, that makes our work worthwhile. So, here's a heartfelt thank you from our team.
Did you know, you can also support Keep The Faith with a gift of any size today?
Your gifts are so important to our future because we provide all our services for free and help those who are in need of God's Word. 100% of your gifts will be used to help us continue transforming lives and supporting UK and international Christian projects.
So please, click here to support and partner with us in this journey together.