The Rwandan radio show which brought children back from the dead
This is the story of three little boys almost lost forever in the wave of people fleeing the violence which engulfed Rwanda in 1994.
It is also the story of how a radio broadcast cut through the fear and the chaos to reach across borders and decades to bring them from the dead, and home to their families.
"It restored hope among us," Theogene Koreger told the BBC, 25 years after his nephews disappeared.
"The message reached where we could not reach – they delivered messages we could not have got otherwise."
This story begins at the end of the genocide in Rwanda. One hundred days of murder and rape had finished with an estimated 800,000 Tutsis and moderate Hutus dead.
Hundreds of thousands more had fled their homes in search of safety and, among those, were an estimated 120,000 children who had become separated from their families.
Mugabo and his little brother Tuyishimire were just two of the 40,000 who had crossed the border to find safety. And Mugabo – at just seven years old – had become the head of his tiny remaining household.
After all, the last job his mother had given him before she had died was to look after Tuyishimire, who was just a toddler.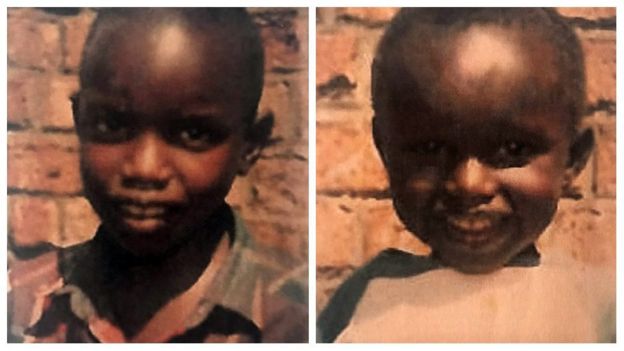 But now they were alone in what is now the Democratic Republic of Congo, and struggling to survive in one of the refugee camps which had sprung up along Rwanda's borders.
"We could live on begging, tomatoes and fish," he recalls, a note of defiance – and pride – still in his voice 25 years later.
But the camps were dangerous places: the million or so refugees who had sought shelter there may have survived the genocide, but now there was cholera and dysentery to contend with.
Tens of thousands more would die before they were able to go home.
"The camps were bad, bad. There were diseases everywhere," Rene Mukuruwabu tells the BBC as he sits in a garden in Kigali, miles from the place where he and his family ended up when they were forced to flee.
Rene, in some ways, was one of the lucky ones: his family was intact when they arrived in Tanzania in 1994.
But then his father disappeared and his mother, who had set up a clinic to help the sick, became one of the camp's many deaths.
Within the blink of an eye, his family had become just him, his little brother Fabrice, and their step-sister.
And it would take just another moment for five-year-old Rene to find himself entirely alone.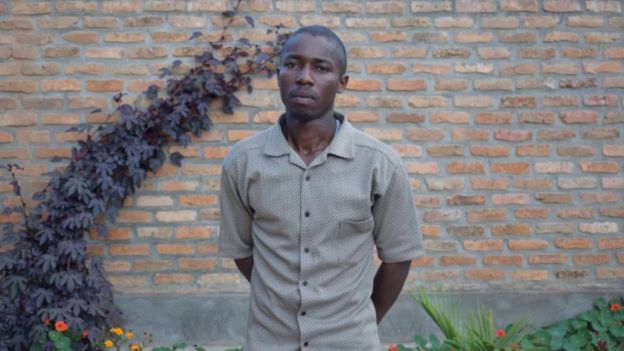 After the genocide ended in July 1994, humanitarian agencies were faced with a raft of problems – how to heal the wounded, how to feed the hungry, how to house the homeless.
And how to reunite lost children with their families.
But – in a time long before the internet or mobile phones, when people have run away with nothing, when a country is in turmoil – how do you start to find what family they had left?
"It was the idea of Neville Harms, who was the manager of the BBC's Swahili service in 1994," Ally Yusuf Mugenzi explains. "He decided to establish a lifeline project to reunite families which were missing each other."
And so a plan was hatched to create a short, 15 minute programme which would be broadcast by the BBC into Rwanda, and the surrounding countries. It would start with a news bulletin and be followed by people appealing for their missing relatives.
Actually putting it together was, of course, not as simple, and involved working together with the Red Cross, which would record and then send short tapes to the studio.
"We would run the voices of people from these camps," explained Mugenzi, who became one of the show's two presenters.
It would end up being named Gahuzamiryango, meaning "the unifier of families" and was first broadcast 25 years ago. It was supposed to last for just three months. That deadline, however, quickly came and went.
Main image copyright: Getty Images
Written by: Flora Drury
First published 23.09.19: https://www.bbc.co.uk/news/world-africa-48948073