How green theology is energizing the black community to fight the climate crisis
Black churches across the country are embracing sustainability through Green The Church, an initiative that empowers congregations to use sustainable food and energy practices to fight the climate crisis and strengthen their communities.The Rev. Ambrose Carroll, the group's founder, grew up in a faith-based family where he, his father and family members started Carroll Ministries International. Inspired by the leadership and activism of black churches during the civil rights movement, Carroll wondered what his generation's movement would be.He was inspired by reading Van Jones' book "The Green Collar Economy," in which the former Obama administration Special Advisor for Green Jobs makes a socioeconomic case for lifting people out of poverty by creating green jobs in their communities."At that point, I became a Green For All fellow in 2009 and learned a lot about environmentalism and sustainability," Carroll said.That same year he became a board member with Colorado Interfaith Power & Light, a religious environmental group. But he found it difficult to find a space where he could address the climate crisis as a pastor and a person of color simultaneously.He decided to create his own initiative when he realized the lack of activism at the intersection of sustainability, faith and race.
"I thought that it was time to wake up the sleeping giant that is the African-American church on the issues of environmentalism and sustainability," Carroll said. "I felt like the black church needed to have an organization that they felt was their own, where they could talk about environmentalism through different lenses and with different language."That was the beginning of Green The Church, which aims to help churches amplify green theology, promote sustainable practices and build power for political and economic change.
Stewards of the Earth
For Carroll, connecting the black community to the history of African-Americans and the African diaspora is key to growing sustainability in the church. Historically, African-Americans have come from an agricultural background that kept them in tune with the Earth."Green theology is the exploration of our history," Carroll said. "In our DNA, in who we are, there's always been a very close connection to the planet itself."This changed when The Great Migration brought 6 million African-Americans from the rural south to urban areas in the North, Midwest and West from 1916 to 1970. The shift meant more job opportunities in industry and manufacturing, but it came at the expense of agricultural skills that were passed down from generation to generation."I think there is a lot that we have to do just in terms of building ceremony that brings African-American people in particular, and all people, back in relationship with the land," said Carroll.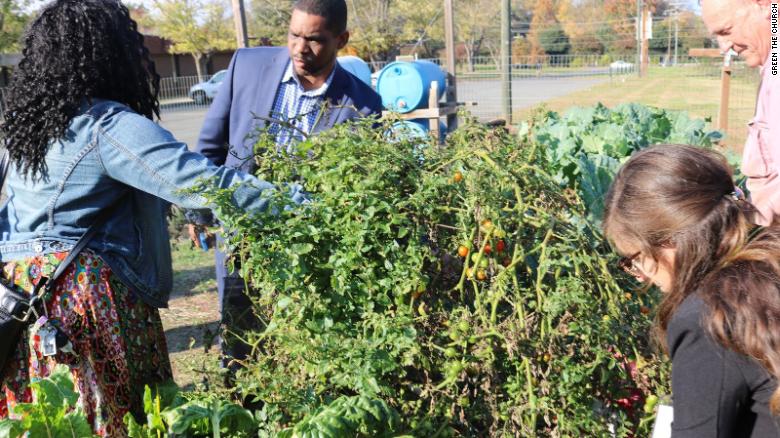 Green The Church works with several state affiliate chapters that encourage food sovereignty, giving people more control of their own agricultural systems, strengthening connections with local farmers and offering sustainable food sources based on the needs of communities, not the market demand of corporations.One of Green The Church's state affiliate chapters is led by Rev. Heber Brown III of Pleasant Hope Baptist Church in Baltimore. The congregation created the Black Church Food Security Network which connects black farmers to historically black churches. This network of church gardens helps educate people in the surrounding neighborhood on food justice and runs pop-up farm stands at churches in the Baltimore area.And in 2015 the 31st Street Baptist Church in Richmond, Virginia, became the first urban church in the US to receive a USDA farmer's license for its Darrel Rollins Memorial Community Garden, which gives the community access to fresh food.
Planning for the future
Retrofitting buildings for solar power is another way Green The Church is making congregations more sustainable. The organization has helped several churches connect with developers to make their buildings more efficient and to make the switch to renewable energy."We're looking at our largest asset: our buildings," Carroll said.In 2017, Green The Church helped Faith Baptist Church in East Oakland, California, connect with RE-volv, a group that crowdfunds solar projects for nonprofits. With the Leonardo DiCaprio Foundation matching donations, RE-volv helped the church raise over $18,000 in one day with their Solar Seed Fund. The church now has a 5.8-kilowatt solar array that has cut their electricity bill in half and will give them more money to support their Food Giving Program.Carroll wants to facilitate more of these success stories, but he also wants communities to have access to renewable energy through meaningful government policy.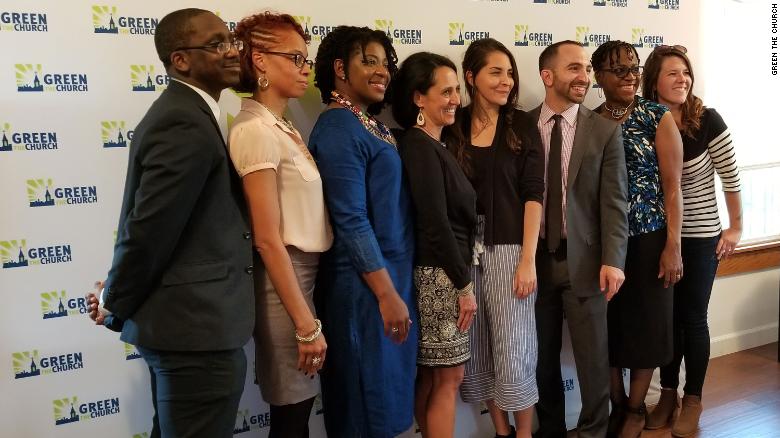 "We've been working since our inception around 100% clean energy, working to mobilize and educate pastors and clergy about what's going on with the Environmental Protection Agency," said Carroll.Since 2014, Green The Church has held an annual summit to discuss these topics on a larger scale.This year, it held its sixth annual summit in St. Louis at New Northside Missionary Baptist Church, where members addressed the effects of climate change, the Green New Deal and international outreach.New Northside is located in a working class neighborhood in St. Louis' 27th Ward, and the church added a new page to their 117-year history after installing solar panels in 2015 to improve energy efficiency."It would be great if our church could be a leader in energy efficiency," said Rev. Rodrick Burton, the pastor at New Northside. "That's not something you always associate with African-American churches. But then it was also practical. We needed to save money on our energy costs."Burton works closely with Green The Church and other local environmental organizations. As a member of St. Louis' Clean Energy Advisory Board, he advocates for 100% clean energy in the city by 2035. He is dedicated to ensuring conversations about climate change are inclusive for communities of color.Through his activism, he thinks the black community is on the verge of becoming an influential force in the climate movement."One of the things that this movement has to do is to make African-American churches aware that these issues are their issues," said Burton. "So often with African-Americans, justice always means racial justice or justice in the legal system. We have to let them know environmental justice is also a part of that."
Written by: Nicollette Higgs
First published: https://edition.cnn.com/2019/11/22/us/green-the-church-black-community-fights-climate-change/index.html